Description
The Ultimate Bloody Mary Mix
They told us we shouldn't use Italian San Marzano tomatoes because they're too fancy and expensive so we went ahead and used them anyway. What you get is pure goodness.
Mixologist in a Bottle
The Perfect Bloody Mary Every Time
Fellow Bloody Mary lovers, say goodbye to boring, watered-down, over processed, and artificial mixers that have you "doctoring" more than delighting. Instead, say hello to your new mixologist in a bottle, the LAVA Premium Bloody Mary mix. A ready-to-serve, flavor packed, no-nonsense small batched mixer offering homemade freshness without the homemade cleanup. All it takes for the perfect Bloody Mary every time is LAVA, a splash (or two) of vodka, and ice. Easy breezy.
It's no wonder why this mix is the choice for some of the top hotels, restaurants, PGA golf tournaments, and venues in the country.
Elevate Your Cocktail
Made unique, just like you
Designed specifically to save your taste buds from the old, and bring them into the new, for a delicious, spicy, savory, tangy, and fresh experience unlike any other. Yes, it's that 'bloody good' thanks to the less acidic and more flavorful Italian San Marzano tomatoes we juice whole into every bottle and then carefully blend with purified water and our proprietary spices. The end result is the perfect balance of flavors and medium heat that will keep your mouth begging for more.
So the next time you want to impress, skip the messy DIY Bloody Mary recipes and boring old-school mixers, and show-off at your next party with our best Bloody Mary mix.
Add to Cart
Finally, the bloody mary I have been looking for! I had this at the famous Hotel Del Coronado brunch and fell in love. Perfect spiciness, tons of flavor, and everything I can ask for in a healthy bloody mary ingredients.

Ashley A., La Jolla, California
Highly recommend this superior Bloody Mary mix made with the highest quality ingredients. Truly, super premium. LAVA is the best.

Bill Anderson, President at Crystal Head Vodka
Had a LAVA Bloody Mary at Dell March Play Golf Tournament and it was the best Bloody Mary I've ever tasted. So glad our hospitality booth had your brand.

Barbara E., Austin, Texas
Not your ho-hum, everyday Bloody Mary... a savory, almost meal-like flavor... the consistency is smooth and slightly pulpy, and when added to your favorite liquor, becomes light, fluid and perfect for a warm weather brunch.

Shelley Buchanan, Owner at Drunken Tomato
Imported San Marzano Italian Tomatoes
Real tomatoes freshly juiced into every bottle.
Made with the world's best tomatoes -- full bodied, silky red, San Marzano Italian tomatoes vine ripened, hand picked and steam peeled. It's the hard way (and expensive way) to do it but the right way.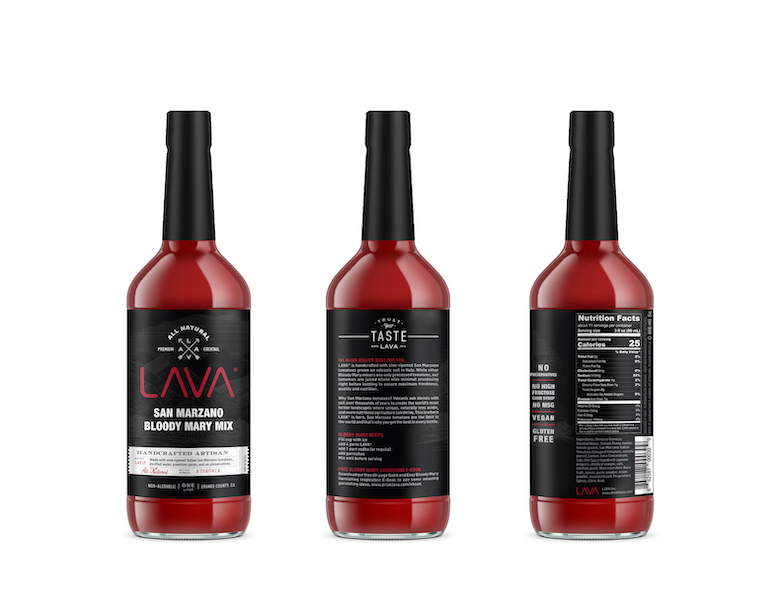 Freshly juiced San Marzano Italian tomatoes in every bottle.
Only the good stuff. No artificial ingredients. No preservatives.
Bold flavor, smooth texture, never water with just enough spiciness.
Only 25 calories and 4 carbs per serving. Zero grams of fat and cholesterol. No sugar added.
Gluten free bloody mary. Vegan friendly, no animal products.
The difference is in the details. Drink better, drink Lava.
Subscribe and save! Delicious cocktails delivered right to your door.
Happy hour at home just got much easier. Subscribe and save is a super convenient and hassle free way to have your favorite LAVA cocktails set to autopilot so you can be delighted at the door every time.